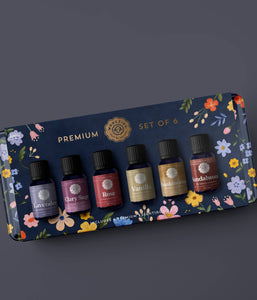 Premium Set of 6 Tin Box Gift Set
Regular price
$28.99
$0.00
Set of 6 Essentials oils in gorgeous gift tin
VANILLA: Made by infusing sunflower oil with vanilla beans, producing an intoxicatingly rich and sweet oil.
SANDALWOOD:That rich, woodsy, cozy fireplace scent, sandalwood calms the mind and enhances mental clarity.
CLARY SAGE: This relaxing and soothing oil has floral, fruity, herbal aroma. It is also used to relieve sore muscles.
ROSE:Sweet and floral, rose encourages romance, uplifts the mood, and can contribute to skin
LAVENDER: This rich, floral, and herbaceous oil is stress-relieving and sleep-inducing. It has anti-inflammatory properties.
FRANKINCENSE: Earthy and sweet, frankincense is used to relieve stress, promote focus, and offer a grounding energy.
---
Share this Product
---
More from this collection