• Belle • Casual looks • Fall transition • Family Photos • How to wear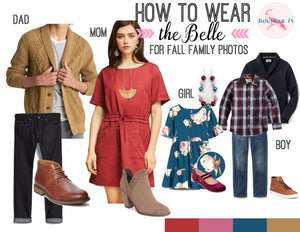 We keep telling you guys how great the Belle fall dress would be for fall family photos, so we thought it would be fun to put together a little family photo look with the Belle as the star. Paired with cut out booties and our fan necklace in gold, it's perfect. We kept the rest of the family casual but put together in shades of camel, rusty red and a pretty blue, with a hint of pink. We tried to keep our choices very affordable and things that could be worn again and again. Shop everyone's looks here. Let us...
---
• Casual looks • How to wear • Kenzie • Leggings
The Kenzie waffle top is so comfortable and perfect for fall. Easy to wear with jeans or leggings. Top it off with a cardigan when the chill really sets in. Today we wanted to show how you can wear this for an every day casual outfit. We have this in two colors, oatmeal and light gray. I love them both!  Perfect for running errands, hanging out at home or doing pick up & drop off for school. Pulled together and comfortable.  Pair our Kenzie waffle top with our new super soft solid leggings, slip on sneakers in basically any color...
---
• How to wear • Style sheet • the Sunny • Wear Now & Later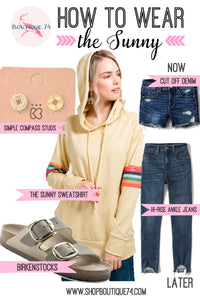 The Sunny is such a fun and comfy sweatshirt. It is lightweight and soft, made from french terry fabric. The rainbow stripes on the sleeve are slightly distressed, giving it the perfect lived in look. This outfit is cute, super easy and super COMFY.  Wear it now with cut off denim shorts and later with high rise distressed ankle jeans. Both can be worn with our simple compass studs and paired with Birkenstock style sandals. This outfit reminds me of a campfire on the beach in California. Links are below for each item shown.  Let us know what you think!  The...
---
• How to wear • Office looks • Style sheet • the Violet
 The Violet is such a pretty top. The plum color along with the interesting embroidery on the sleeve just makes it so fantastic and easy to dress up or down. We thought we'd style this one for an office job. Because of the style top, I don't think you need a ton of accessories to compete with beauty of the sleeves. Pair this with a pair of slim cropped pants, a simple nude suede d'Orsay pump and our hammered gold tone hoop for a little shine. Not much else is needed.  Links to each of these items are below. Let...
---
• Girls night out • How to wear • Olivia • Style sheet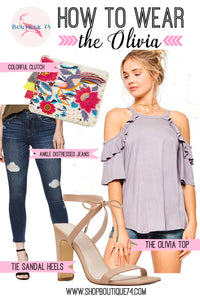 The Olivia can be so many different ways, but for a night out with the ladies this is how I'd wear it. Add some color with your clutch and keep your heels neutral while still adding some fun with the tie sandals. Keep your jeans slim and at the ankle to show off your lovely shoes.  Shop everything here:  Olivia, Colorful clutch, Distressed jeans, Tie sandal heels