• Belle • Casual looks • Fall transition • Family Photos • How to wear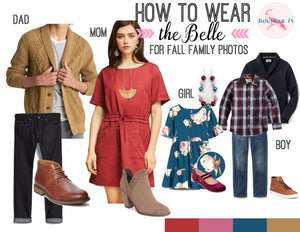 We keep telling you guys how great the Belle fall dress would be for fall family photos, so we thought it would be fun to put together a little family photo look with the Belle as the star. Paired with cut out booties and our fan necklace in gold, it's perfect. We kept the rest of the family casual but put together in shades of camel, rusty red and a pretty blue, with a hint of pink. We tried to keep our choices very affordable and things that could be worn again and again. Shop everyone's looks here. Let us...
---
• Casual looks • How to wear • Kenzie • Leggings
The Kenzie waffle top is so comfortable and perfect for fall. Easy to wear with jeans or leggings. Top it off with a cardigan when the chill really sets in. Today we wanted to show how you can wear this for an every day casual outfit. We have this in two colors, oatmeal and light gray. I love them both!  Perfect for running errands, hanging out at home or doing pick up & drop off for school. Pulled together and comfortable.  Pair our Kenzie waffle top with our new super soft solid leggings, slip on sneakers in basically any color...